The XDAndroid Project is no longer active.
This site provides archived information from while the project was under development. Some links may no longer function.
Version FRX06
Jump to navigation
Jump to search
XDAndroid 2.2.2-r1 Build FRX06 is the project's sixth release of the Froyo series of Android.
This system update was released on 25 March 2011.
Downloads:
Changes from FRX05 to FRX06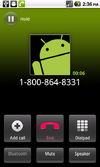 Switched to touch-friendly dialer, along with the VGA layout improvements as seen in Gingerbread
Added HSPA icon (for GSM models)